This series begins with Ashley Lane's video Doublecrossed!
Intrepid reporter Ashley Lane is off on her latest assignment, tracking down the mysterious disappearance of several missing girls. She has made a name for herself, with her guts, determination, and beauty as one of the city's top investigative journalists.
Unfortunately she may have gotten too close to the story! When she follows a tip off from her boss and editor, she is led to what appears to be an abandoned warehouse. She enters, cautiously, only to find a room filled with cameras and bondage magazines.
She calls her editor to report in, only to find he has led her right into the hands of the people she has been investigating.  When the lights go out, Ashley finds herself dealing with a new angle on the story . . . . her own disappearance!

Chained to the wall, at first she thinks she is being discouraged from following the story.  Handcuffed and ball gagged, she squirms and struggles trying to get free. Soon, she discovers something far more sinister going on.  Voices over the loudspeaker and cameras turning on and off fill her with a sense of fear and dread, which is confirmed when a sign is taped to her stomach, identifying her only as "Item #202."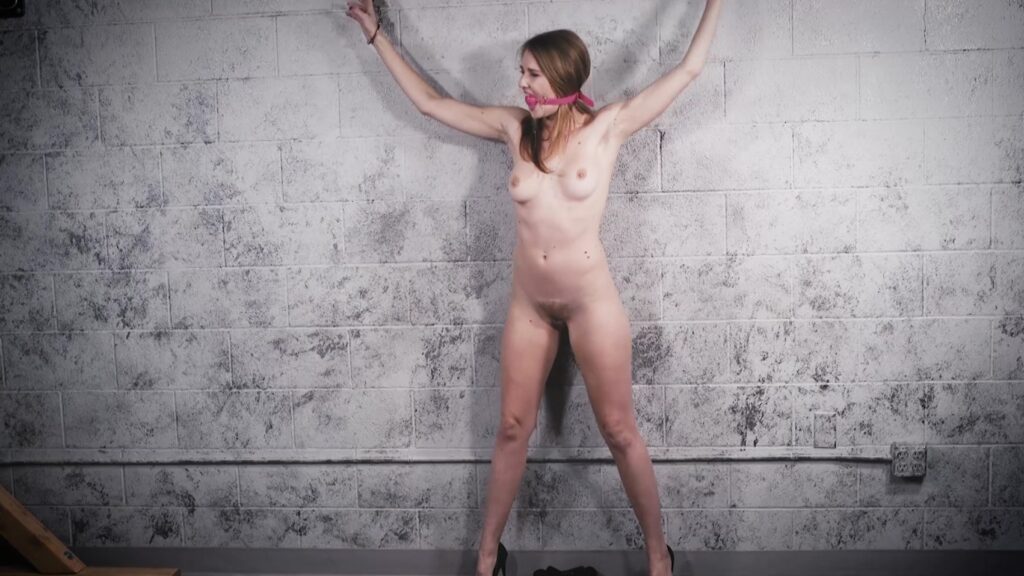 The series continues with different models finding themselves in different situations, with each ending up on the auction block and going to the highest bidder!
You can see all of our streaming videos in the series here: Sold Into Slavery