I always love shooting with Rachel Adams, in part because she reminds me a lot of the bondage models from the old magazines of the 1980s. She has that fresh face look and reminds me a lot of the girl next door type who just happens to also love bondage!
Whenever I get the chance to shoot with her, I always try to think of ways to return to some of those earlier photo shoots that combine both the innocence of the era, when people were just exploring how to tie and shoot models, as well as a newer sensibility that embodies some of the things we have developed in our ability to shoot and tell stories.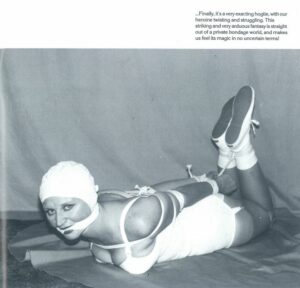 This video was inspired by the bondage magazines of my youth. In particular, the photos of model Sarah Foster Tate who would often appear in bondage magazines wearing a swim cap, bathing suit, and tape gag. For some reason those images stuck with me after all these years.
I always thought of Sarah Foster Tate as a model who combined a sense of fetish and bondage in a way that was really fun and captured a sense of what was best about the Harmony, HOM, Devonshire approach to what was called "Love Bondage" at the time.
Magazines like Bondage Life described itself as "The Magazine For and By 'Love Bondage' People" and I always felt that it truly captured that sensibility.
So when I got a chance to shoot with Rachel Adams again, I wanted to try to recreate some of that feeling, but this time updated with a story of how she was bound and gagged before a big race to make sure that someone else won.
She starts off tied and gagged, wrapped in a towel and as she struggles to free herself, the towel slips away, showing off her swimsuit. I decided to use a black suit and swim cap to give the clip a slightly different feel than the traditional white that Sarah Foster Tate would frequently wear.
The tie is a little more complex too. Most of the early photos had a distinctive Western look, but for this video I decided to use a Japanese tie called a gyaku ebi or "reverse shrimp tie" both to enhance the safety of the tie and to allow a bit more movement for the shoot.
Video requires the model to both be able to squirm and struggle, but also for the tie to remain secure. In my experience, most of the Western ties rely on tightness to accomplish the security part, which makes them a bit riskier for the model, but it also restricts their movement and makes the scene less dynamic.
Rachel's struggling in this video is really fun to watch and the movement is a really nice addition.
I hope you enjoy my effort to blend a vintage idea with some more modern storytelling!
Photo Gallery